Confessions from a personal trainer and life coach
🙃
Even as a personal trainer and life coach - professions built on helping others set and achieve goals, I often found the goal setting process to be hard, boring and stuffy.

I cannot remember one time I set a goal for myself in those type of classes and completed it.

I never set

#newyearsresolutions

.
That all changed a couple years back when I learned that I could use:
my embodied Feminine ways of living (i.e. following the cyclical nature of the moon & seasons) +

my Creativity, laziness and propensity to day dream =

in order to create powerful intentions that were focused yet open ended

(allowing space for life to happen in all ways).

From there, taking the science of how much can the mind can realistically bite off at one time + how far in the future is too far to plan for - I began to craft Quarterly intention setting workshops that would allow me and others to take the

FULLNESS OF MY HUMANITY into account when working towards goals.
What I discovered is that instead of constantly
pushing, pushing, pushing towards my goals
- and beating myself up when I didn't do what I needed to...
I found that allowing "Dark Spaces" of laziness/rest/relaxation made all the difference
.
BASICALLY FOLLOWING THE PATTERN OF THE SEASONS, THE WAY OF THE MOON ALLOWED FOR MY GOALS TO COME INTO LIFE VIA THE INTENTION OF LIVING IN ACCORDANCE TO MY CIRCADIAN RHYTHMS.
Thus the Quarterly Inention Setting workshops were born! These workshops were always a fun, creative & communal way to join together in community to proclaim what we were moving towards in our life.
This past year or 2019 was a year's worth of "Dark Space"...and it has given me the nutrition, space, rest I needed to start this next year & decade off with more focus, intention and zest for life.
That's right. I didn't do any intentions for 2019 except to allow myself to flow with where Life wanted to take me. And to Rest as much as possible.
I share this personal side of my life because I know how pressurized our society can be - especially the "Goal" or "New Year's Resolution" setting worlds.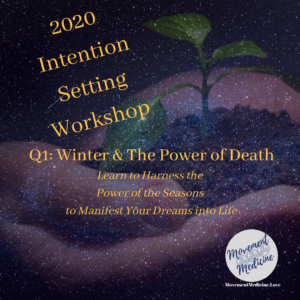 A way where I walk through the entire process with you, as many times as you need to hear the steps - and the reminders to be Compassionate, Kind & Considerate to yourself.
I have been allowing this workshop to gestate in me as I work it first for myself - and thus crafting it in a better and better way for you!
I LOVE this tool - and I pray you will grow to love it too!
BUT DON'T TAKE MY WORD FOR IT - GO CHECK OUT THIS NEW ONLINE COURSE AND TAKE THE CHALLENGE FOR YOURSELF!
AND PLEASE - I am here for you.
Please reach out with questions in the discussion board area of the course. Other's might have the same questions!