Find all of our Dances, Special Events & Community Workshops Events either on
Nashville Body Language Meetup
*********************
Here is an example of a 4-week series I developed to teach Adults & Teens alike how to "OWN YOUR POWER".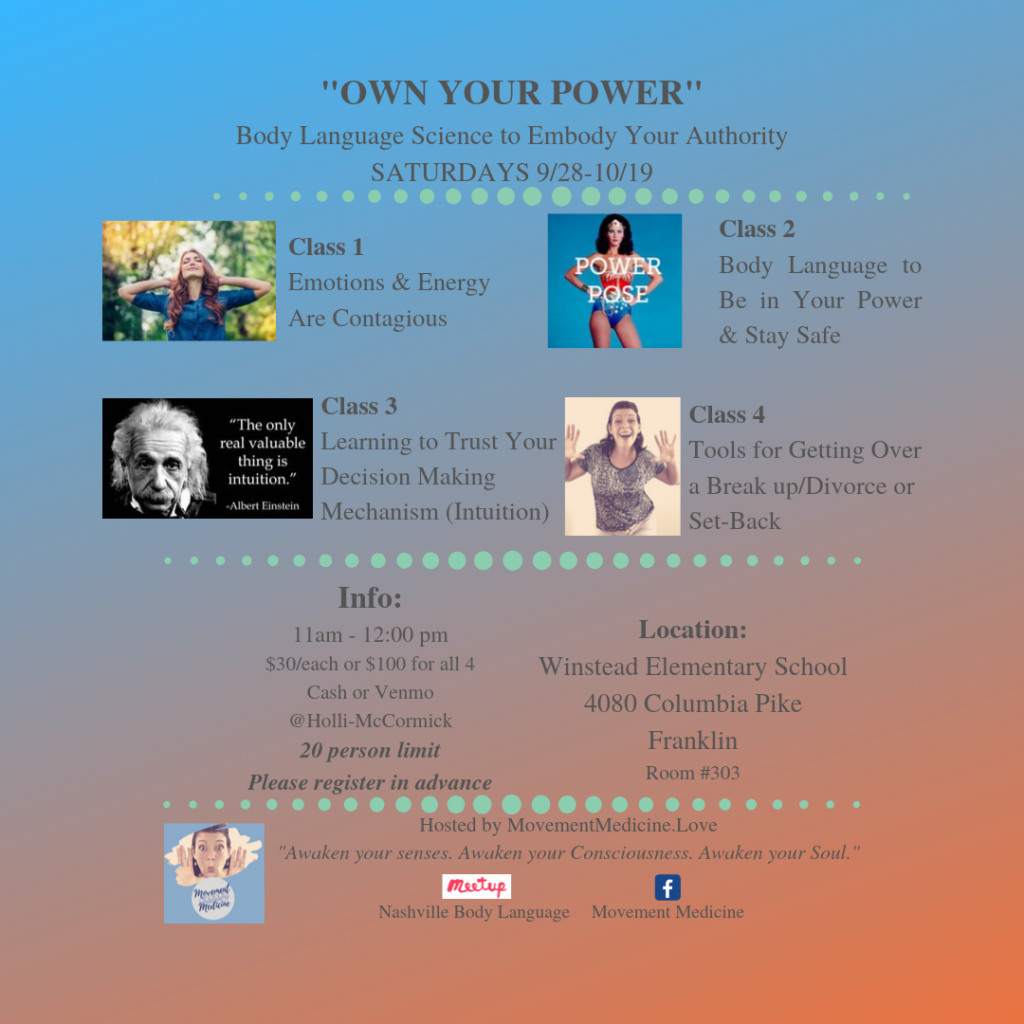 OWN YOUR POWER. Get your WONDER WOMAN/SUPERMAN POWER POSE ON.
Awaken more of your senses that helps you awaken new parts of your brain - i.e. your Consciousness. With more of your Consciousness awakened, you are more tapped into your own Power - the creative life force that comes from within that some call our Soul.
With more access to our own Soul Power, we have more access to truly start creating the life we desire, dream of, hope for.
Over the course of 4 weeks - we will use Neuroscience, Body Language Science, Quantum Physics and other Left-Brain material to understand the mysterious world of emotions, body language, non-verbal communication (energy & intuition) and more.
While each of these classes are meant to stand alone, the topics will build on each other and will help to infuse every other class in the series.
Join me for this spectacular adventure into the Mystery School of Life so you can embody your Authority - your true creative Power. More of a description for each will be found under each days event page.
Class 1: Emotions & Energy are Contagious
Class 2: BODY LANGUAGE TO BE IN YOUR POWER AND STAY SAFE (the embodied side of creating a "consent" culture) on
Class 3: Trusting your Decision Making Mechanism (Intuition) on
Class 4: Tools for getting over a divorce/breakup or any set back on
Ready to find out more?
Follow this link to schedule your free Investigative 20 min session
(click on the "Speaker" option)